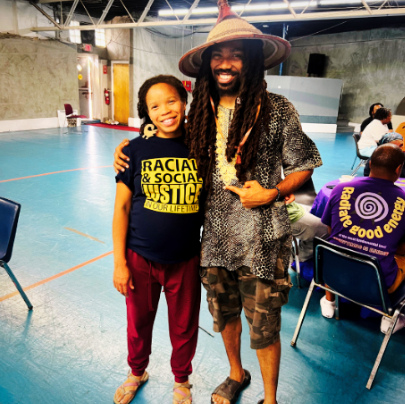 Celebrating The International Day of the World's Indigenous Peoples
We are thrilled to bring you another edition of our News and Views newsletter, highlighting the significant events and initiatives that define our mission of working towards transforming our food system. This month, we want to first celebrate The International Day of the World's Indigenous Peoples on August 9th, 2023. This day commemorates the invaluable contributions of Indigenous communities worldwide.
In this month's newsletter, we will share the inspiring work of our Food First Fellow, Shakara Tyler, as well as sharing other stories of transformation in urban farming.
In the fight for a just and equitable food system, grassroots activism has emerged as a powerful force for driving transformative change. At the heart of Food First's mission is the belief that access to nutritious food is a fundamental human right. In contrast, the current dominant food system perpetuates social, economic, and environmental injustices and prioritizes corporate interests over the well-being of communities.
Grassroots activism becomes a catalyst for change by empowering individuals and communities to challenge these systemic inequities. Through grassroots activism, marginalized communities directly affected by food insecurity and inequality reclaim their voices and agency. By mobilizing and organizing at the local level, these communities can address the root causes of food injustice and advocate for sustainable solutions. Grassroots activists build awareness, engage in critical dialogue, and mobilize collective action to bring about systemic change. Join us as we delve into the significant influence of community-driven initiatives and join hands in our collaborative journey towards creating a world where everyone has access to food sovereignty and food justice.
---
Food First Fellow Spotlight: Empowering Detroit's Black Communities Through Urban Agriculture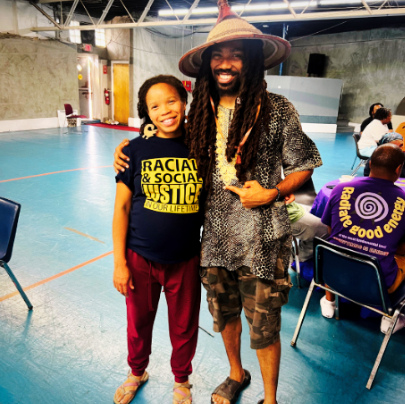 Detroit, MI has a population of 620,376, of which 78% is Black. Detroit is a dynamic example of Black people taking leadership of developing equitable food systems in their communities. This movement to address inequities around food and land access has birthed Black-led organizations fighting to not just sustain their community but to thrive. Food First is proud to introduce one of our exceptional Food First Fellows, Shakara Tyler, who is making a remarkable impact in the food justice space. Through her community project, she is driving transformative change and empowering Detroit's Black community to achieve self-reliance, food security, and justice. Partnering with esteemed organizations like the Detroit Black Community Food Security Network (DBCFSN), Oakland Avenue Urban Farm, and Keep Growing Detroit (KGD), our fellow is spearheading a vision for a just and equitable food system. Together, they are influencing public policy, engaging in urban agriculture, promoting healthy eating, encouraging cooperative buying, and nurturing the next generation of food leaders.
The journey begins with a focus on the Detroit People's Food Co-op (DPFC), a community-owned grocery cooperative designed to provide improved access to healthy food and food education to Detroit residents. Our fellow is passionately working to ensure the co-op remains a Black-led institution, embodying resistance to food apartheid and serving the needs of the local community. Through democratic control and engagement, the DPFC aims to create a sustainable model for equitable food distribution. Simultaneously, Shakara is involved in the Detroit Black Farmer Land Fund (DBFLF), which aims to cultivate intergenerational wealth through land ownership and stewardship. By supporting Black farmers in acquiring land, reducing blight, and feeding Detroit with fresh, local produce, the DBFLF is nurturing economic growth and community resilience.
The vision extends to the development of a grower cooperative, increasing buying power and driving sustainable change in the city's food system. While building cooperative spaces is a significant challenge, Shakara sought to create a curriculum that would enable others to drive change in their local communities. Her project, the Black Co-op Curriculum, focuses on research, education, and building community to uplift the city of Detroit and create transformative change in the food justice space. Shakara did this by collaborating with a community advisory committee to build a website and a curriculum training that is reflective of a broader community perspective. From fundraising to equitable relationship building and conflict resolution, she navigates both visible and invisible obstacles to create lasting change. By employing pedagogical processes grounded in community contexts, she fosters collaborative learning, accountability, and shared leadership.
Shakara's partnerships have strengthened the food sovereignty movement in Detroit. She has also built connections with the University of Michigan and Taste the Diaspora Detroit to pave the way for innovative collaborations and knowledge exchange. Through participatory ethnographic case study methods, Shakara gathers valuable insights, including participant observation, interviews, and content analysis. By engaging with the community pedagogical committee, she ensures a collaborative and accountable approach to curriculum development. The result will be a freely accessible, living curriculum that fosters dialogue, builds membership and leadership in the DPFC, and enhances the capacity of Black growers to collaborate and thrive.
As we share the progress of this extraordinary journey, we want to highlight the value a Black cooperative pedagogy offers as a driving force in liberation struggles and the building of strong, Black-led institutions. Grassroot activism has been a staple for fueling food justice projects that aim to drive transformation in our food system. The success of this effort can inspire other communities as this work demonstrates the possibilities of urban food sovereignty and showcases the stories of DPFC and DBFLF as beacons of hope.
---
A "Better Food Environment" for Black Detroiters Opens in February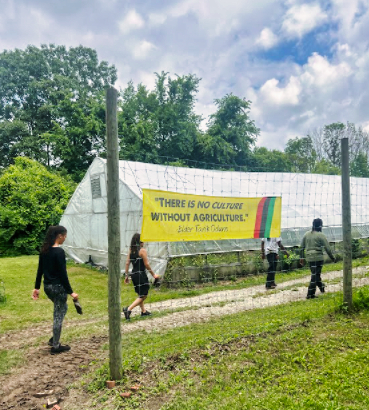 Shakara and her fellow Detroit-based activists are leading the way in demonstrating the power and impact of community-level cooperative engagement as a strategy for self-reliance. We are delighted to share a remarkable transformation unfolding in the heart of Detroit, echoing the core principles that inspired Shakara's work. Detroit Food Commons, a key partner in Shakara's project, has partnered with the Detroit Black Community Food Security Network and Develop Detroit to build a more accessible way to give local residents access to fresh food. This new building will be the second grocery store in Detroit's North End neighborhood. This initiative deeply resonates with our mission to cultivate equitable and sustainable food systems. Their work is a testament to the potential for grassroots endeavors to ignite lasting transformation. Through communal collaboration and shared determination, this endeavor aims to enhance food access and opportunity for Black Detroiters – a byproduct of the partnership Shakara built while developing her curriculum. The project's goals harmonize seamlessly with Shakara's vision to empower marginalized communities through sustainable practices. It serves as a reminder that genuine change starts at the local level through grassroots activism. These stories of hope and progress are the lifeblood of our mission. Projects like these are critical for propelling us to continue nurturing resilient communities and working towards a future where food equity reigns supreme.
---
Urban Farms Are Stepping Up Their Roles in Communities Nationwide
Imagine a community united by the vision of turning barren land into a flourishing oasis of fresh produce and opportunity. Tri-Cycle Farms and Alma Backyard Urban Agriculture are doing just that, bridging the gap between food scarcity and abundance. Through dedication and community support, they are breathing life into neglected spaces, fostering a sense of belonging and nourishment. Beyond the bountiful harvest, these urban farms cultivate hope, resilience, and empowerment. These individuals have been transforming access to fresh, nutritious food in their community. From community gatherings to educational workshops, the impact of these farms extends far beyond the soil, reaching hearts and minds with every seed sown. In the spirit of unity and community, let's come together to celebrate the spirit of urban farming. As we recognize the vital importance of supporting urban farms, we are reminded that by cultivating change at the grassroots level, we contribute to a future where every individual has the opportunity to thrive. We are inspired by stories like these where the simple act of planting a seed leads to a flourishing and empowered community.
---
These Chicago Urban Farmers Are Growing Local Food
South Chicago Farm stands tall as a testament to the power of grassroots initiatives. This captivating story takes us into the heart of the community, where a group of dedicated urban farmers is transforming vacant land into a thriving oasis of fresh produce, hope, and change. Through sustainable practices and unwavering dedication, they are nurturing a sense of ownership and empowerment within the community. South Chicago Farm is bridging gaps and creating pathways to nutritious food for residents who have long been underserved. We are inspired by stories like this, where dedication and resilience create a ripple of positive change. Let's remind ourselves that by nurturing the growth of equitable, sustainable, and nourishing communities, we contribute to a world where every voice resonates and every plate overflows with the abundance of the earth. Immerse yourself in the full story below to uncover the tale of South Chicago Farm — a story that illuminates the path towards a brighter, more inclusive future.
---
Additional Resources
---
Support Our Work
As a leading advocate for food justice and sustainability, Food First is actively working towards holding stakeholders accountable and providing solutions. We collaborate with policymakers, grassroots organizations, and communities to support sustainable agriculture, advocate for policy changes, and empower local farmers. By fostering international cooperation and investing in climate-resilient agriculture, we aim to create a more equitable and accessible food system for all. Through our research, advocacy efforts, and community-based programs, we strive to address the root causes of food insecurity and alleviate hunger for future generations. Through our programs and initiatives, we seek to work towards a future where food insecurity is no longer a reality for millions worldwide, and where access to nutritious food is a fundamental human right. By supporting these initiatives and standing in solidarity, we can collectively take a stand against food insecurity and work towards a world where no one goes to bed hungry. To support our programs and ensure the success of initiatives like this, we invite you to make a gift today. Your generosity will help us continue empowering communities and driving meaningful change.
Join us in this crucial mission to ensure a brighter and more nourished future for all.
Consider giving a gift of hope today: www.foodfirst.org/support
Share this newsletter with your friends and community to spread the word by using the #foodsovereignty hashtag and tag us @foodfirst on social!
---
Find us on Social Media