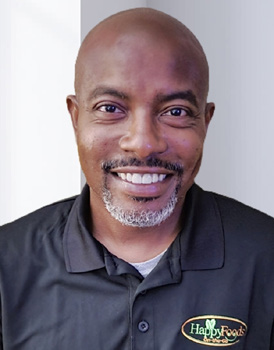 FF News and Views – Oct 2023
October 2023, Volume 44, Number 173
Spotlighting Our Food First Fellow – Robbie Pollard: The Happy Foods Project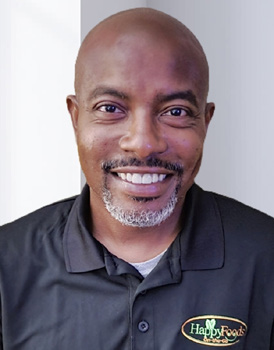 Welcome to the October 2023 online edition of our News and Views newsletter. This month, we will feature the inspiring work of another Food First Fellow, Robbie Pollard, who is based in the Mississippi Delta. You'll learn about the transformative community-based projects Robbie and his partners are implementing to make his community more food secure. Robbie's project is also promising because it reflects a model other farmers can use to improve food access in their communities.
Robbie Pollard is a Mississippi native who graduated from Florida International University with a BS in Management of Information Systems. Feeling burnt out from a career in IT, Robbie started attending farming workshops, networking with experienced farmers, reading books on regenerative agriculture, and working with the Alcorn State Extension Program, where he learned how to grow food sustainably. Feeling inspired by what he learned, Robbie started the Start 2 Finish Farms, LLC. Robbie also created the Happy Foods Project, Inc., which is a grassroots 501c(3) nonprofit organization. The Happy Foods Project's mission is to promote community development in rural Mississippi by increasing access to healthy, affordable local foods and strengthening the financial viability of his fellow farmers.
Through the Happy Foods Project, Robbie has provided farmers in his community with a networked cooperative designed to ensure the availability of resources needed to sustain their farms. Through this project, Robbie started The Happy Foods Project Agripreneurship Initiative which includes three coordinated market opportunities for small-scale farmers: a FoodRX program to deliver fresh produce boxes, a mobile farmers market to service areas in the Mississippi Delta that have limited access to fresh produce, and an e-commerce website (which will be live soon) where customers can purchase local vegetables and value-added products.
The Happy Foods Agripreneurship Initiative programming launched with the establishment of the North Delta FoodRX pilot program. In partnership with the University of Mississippi Community First Research Center for Wellbeing & Creative Achievement (CREW), Robbie provides fresh produce boxes to sick and shut-in, typically elderly patients in Quitman County Mississippi. This program currently serves 20 patients with plans to expand to 100 patients by 2025.
Robbie is also partnering with Tougaloo College Agri-Growth Initiative and Partnership For a Healthier America on the Food is Medicine project. In this program, Robbie serves as the lead aggregator and local produce supplier. This is a locally-sourced prescription program for Bolivar and Sunflower Counties in Mississippi.
In addition, Robbie's Farm Start 2 Finish Farms established in 2012, is one of the lead farms working with Tufts University and Tougaloo College on a 5-year project to provide 300 food boxes weekly to recipients in the Mississippi Delta.
Each of these new initiatives is improving food access for individuals and families throughout the Mississippi Delta while also supporting the economic viability of small-scale BIPOC farmers. In creating the food delivery food box model, Robbie has designed a process that can be replicated by other farmers as they embrace and develop an agripreneurship business approach. The Happy Foods Project Agripreneurship Initiative is cultivating change, empowering farmers, and nourishing communities.
These initiatives strive to bridge the gap between under-resourced BIPOC growers and market opportunities, fostering a sustainable path for agricultural entrepreneurship and improved access to nutritious food in the Mississippi Delta. Through collaboration and innovative market strategies, The Happy Foods Project Agripreneurship Initiative is sowing the seeds for a brighter, healthier future for residents and independent BIPOC growers.
---
Why We Must Halt Rising Rates of Food Insecurity Now
Robbie's integrated agriprenuership approach is his way of responding to the food insecurity he observed throughout the Mississippi Delta. Food insecurity is a growing issue for countless communities. Food insecurity is a complex problem that far too many individuals and families in the US and throughout the global south struggle with.
Data published by the US Government shows food insecurity is on the rise. The number of people living in poverty in 2021 has increased to 37.9 mil or 11.6% of the US population. Both of these data points reflect increases versus 2019 when 34 million or 10.5% of the US population was food insecure. And these totals could get much worse in the coming months as fears of continued inflation, or recession, and job loss loom as real possibilities.
Food access, affordability, availability, and the ability to secure culturally appropriate food are all critical components that can lead to food insecurity. Vulnerable populations like the elderly, sick, and shut-in are at high risk for food insecurity. But so too are immigrants, farmworkers, food system workers, and other low-wage workers who despite their many hours working still struggle to have the resources needed to ensure their families have nutritious food.
Some of the key strategies for addressing these issues include providing adequate funding for programs like SNAP which enable vulnerable populations like the elderly, to secure the food they need, funding for programs like WIC which are designed to assist mothers and their children in securing the food needed to stay healthy, and, supporting low-income communities struggling with food apartheid, and creating solutions that aim to increase the availability of food for farmworkers, food system workers, and resource-limited consumers.
By highlighting the disproportionate burden faced by vulnerable populations, Food First is working to underscore the urgent need to gather support for marginalized communities and provide potential pathways for sustainable solutions. Food First is committed to supporting innovative approaches that empower communities to build their own solutions to become more food secure and self-reliant. We will continue to challenge the powerful food interest by advocating for a food system that serves the needs of everyone. Join us in pushing for and supporting policy changes to make the food system more fair and just for everyone. Food should be a human right, not a commodity only some can afford!
---
Additional Resources
The resource links provided below offer an opportunity to learn more about the various organizations noted in this newsletter. These organizations are either farming collaborators or funders who, like Food First, support the agriprenerial programs initiated by Food First Fellow Robbie Pollard to address food insecurity in the Mississippi Delta.
---
Support Our Work
As a leading advocate for food justice and sustainability, Food First is actively working towards holding stakeholders accountable and providing solutions. We collaborate with policymakers, grassroots organizations, and communities to support sustainable agriculture, advocate for policy changes, and empower local farmers. By fostering international cooperation and investing in climate-resilient agriculture, we aim to create a more equitable and accessible food system for all. Through our research, advocacy efforts, and community-based programs, we strive to address the root causes of food insecurity and alleviate hunger for future generations. Through our programs and initiatives, we seek to work towards a future where food insecurity is no longer a reality for millions worldwide, and where access to nutritious food is a fundamental human right. By supporting these initiatives and standing in solidarity, we can collectively take a stand against food insecurity and work towards a world where no one goes to bed hungry. To support our programs and ensure the success of initiatives like this, we invite you to make a gift today. Your generosity will help us continue empowering communities and driving meaningful change.
Join us in this crucial mission to ensure a brighter and more nourished future for all.
Consider giving a gift of hope today: www.foodfirst.org/support
Share this newsletter with your friends and community to spread the word by using the #foodsovereignty hashtag and tag us @foodfirst on social!
---
Find us on Social Media